Creating an effective lead generation campaign means taking advantage of every tool at your disposal. If you're in the B2B side of the MedTech industry, that means having a robust presence on LinkedIn. With LinkedIn, you have access to current clients as well as an easier path toward nurturing new ones.
As the top organic and paid platform for B2B, LinkedIn is a must-have for your lead generation campaign. However, there are some important tips to follow if you want your campaign to be effective. Start by creating profiles for your executives and presenting them as thought leaders in their field. Next, create a compelling business page that draws visitors into your story. From there, you can connect with your current clients and gain warm introductions to new prospective clients on the premier networking platform.
Why Use LinkedIn to Boost Your MedTech Leads
If you're a marketing manager for a MedTech company then you know how important it is to be active on your socials. Not only do they provide a way to get your message out and share content, but they're also a great way to generate leads for your business.
We're willing to bet you're already making the best of:
However, you may be overlooking one very important platform — LinkedIn. This is especially true if you're a B2B MedTech business for telehealth or other similar services. As the Content Marketing Institute points out in their research, LinkedIn is the top organic and paid social platform for B2B, with 82% of marketers reporting having the best success there.
This is thanks to the demographics that use LinkedIn as opposed to other platforms. Where users may purchase something on Instagram occasionally, they're mainly there to scroll, like their friends' photos, and watch Stories. Those who use LinkedIn are much more intentional with their time, as the platform is specifically geared toward professionals and networking.
This doesn't mean that having a LinkedIn profile for your business is enough to generate leads. Your business profile is a starting place to avoid wasted effort while reaping the rewards of your hard work. The goal here is to nurture potential customers and convert them into paying customers.
To read our blog on the role of social media in your digital marketing campaign, click here!
Tips to Improve Your MedTech Lead Generation Strategy
There is no silver bullet for generating leads on LinkedIn for your MedTech business. However, there are actionable steps you can take that will collectively boost your profile and attract the right kind of customers to your business.
Build a Strong LinkedIn Presence for Your Executives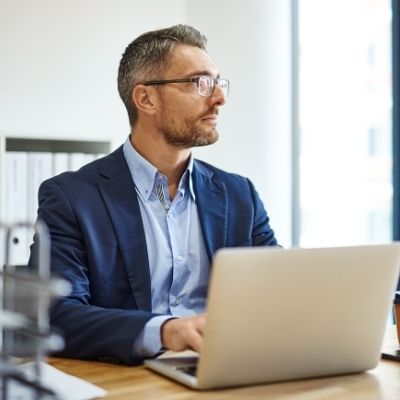 It may seem counterintuitive, but your initial efforts shouldn't focus on your company's LinkedIn page. Instead, you should focus on your executives having a robust presence on the platform. This means creating individual profiles for them as well as your other employees.
Your executives are both leaders in your business as well as in the MedTech industry. The problem is that everyone doesn't know it yet. To change this, you need them to become more active on LinkedIn. Regular posts of your company's content, related content from third-party sources, and engaging in LinkedIn groups raise their profile and the profile of your brand.
And LinkedIn isn't a one-way street. Actively engaging with your audience helps you gain information about your ideal customers. You can learn their pain points and strategically address them in your marketing, whether it's through blogs, video, or other forms of content.
Build Your Company's LinkedIn Page
Now that your executives are raising their profile, it's time to start building your LinkedIn Page. At Baker Marketing, a mistake we often see is business pages that are little more than glorified About Us pages. The truth is that they can be so much more, and that's exactly what your potential customers are looking for.
What's in a compelling LinkedIn Page? According to LinkedIn's own VP of Marketing in an interview with HubSpot:
So, when you come to a good LinkedIn Page, you'll find information about what the company does, but beyond that, some of the thought leadership that's happening. There will be video content as well as the written word, commentary from executives, but also in many cases, information that's curated from other sources. It doesn't just need to be from the marketing group or from an internal source.

– Justin Shriber, Vice President of Marketing at LinkedIn
This way, your LinkedIn Page is more than the basics of your business. It shows that your company is constantly thinking about MedTech and its role in the industry.
Click here to read our blog on the role of content in your healthcare technology company's overall marketing strategy.
Focus On Networking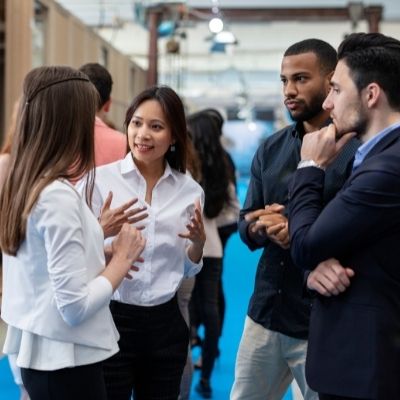 The power of LinkedIn is networking, and you should take advantage of it whenever possible to boost your lead generation. You can connect with your current clients to learn who they're connected to in your industry. This is a fantastic way to get a referral with other qualified prospective clients.
The beauty of LinkedIn is that networking is its primary function. This means that reaching out and connecting isn't as awkward as on other platforms. By using your current customers as jumping-off points, you're using warm outreach to connect with leads. It also cuts down on cold calls and having to legitimize yourself with an elevator pitch.
Having mutual connections shows there's already a level of trust among peers. It also lets them scan individual profiles along with your business page, allowing them to do the work of legitimizing you on their own time.
If you've been implementing other aspects of your digital marketing strategy then this will help them see beyond your LinkedIn Page. They will also be able to find your blogs, YouTube videos, and other digital marketing materials. This will help to reinforce your expertise as they move through the different sales stages and become your newest customer.
Do you need help increasing your presence on LinkedIn? Schedule a free marketing review with us today!
LinkedIn is essential for any MedTech lead generation campaign. To get started, go the counterintuitive route and create profiles for your executives first. As they interact in industry groups, design and build a compelling business page to draw prospective customers further into your orbit. You can then begin to connect with current clients and use those relationships as springboards to connect with new prospective customers.
Baker Marketing Laboratory has spent years helping healthcare businesses find their footing in the digital world. Through a combination of inbound digital marketing and powerful messaging strategies, we help you craft a marketing campaign that resonates with your ideal customer. Contact us today to schedule a call and learn the difference we can make for your business.