The dental industry is known for its intense competition. Googling "dentist near me" brings up pages and pages of options that patients must sift through when choosing a new provider. There may even be other dentists in the same building complex as you, all competing for the same patients. In this type of environment, a bland or outdated website won't cut it.
To captivate potential patients and stand out from the competition, your practice must embrace dental website design trends that elevate user experience and ignite patient engagement. This doesn't mean you have to invest in a million dollar website—it's simply about putting your patients' needs at the forefront of your web design.
Here are five dental website design trends that you should consider to boost your user experience:
Mobile Web Design
Patient Testimonial Highlights
Accessibility Features
Clear Navigation
Easy Appointment Booking
Mobile Web Design
A mobile-first web design is no longer an option—it's a necessity. According to a study by Statista, over 50% of web page views worldwide come from mobile devices, and this number continues to grow. Additionally, websites focused on a consumer audience are likely to have an even higher than average mobile audience. Most of your potential patients will use their smartphones and tablets when searching for information, so your website must function and look as intended in those different layouts. 
The best dental website designers will prioritize mobile optimization to create a seamless browsing experience across all devices. Not only does this increase the amount of time users spend on your website and generate appointment bookings, but Google also prioritizes page experience in its search engine ranking algorithm.
One specific question Google considers that influences your website's rank is, "Does content display well for mobile devices when viewed on them?" Having a great page experience on both desktop and mobile is key for search engine optimization (SEO) and driving more organic traffic.
Patient Testimonial Highlights
Patient testimonials are an authentic form of social proof that instill trust in potential patients. By highlighting real experiences from real patients, testimonials can be the tipping point in converting website visitors into booked appointments. 
To use patient testimonials to their fullest potential, you can embed positive online reviews on your website that patients have left for your practice on Google, Facebook, ZocDoc, etc. These are great to include on your website's homepage, service pages, and appointment booking page to capture visitors' attention and build credibility. To ensure HIPAA compliance, it's important to follow HIPAA guidelines when obtaining patient testimonials and proving consent.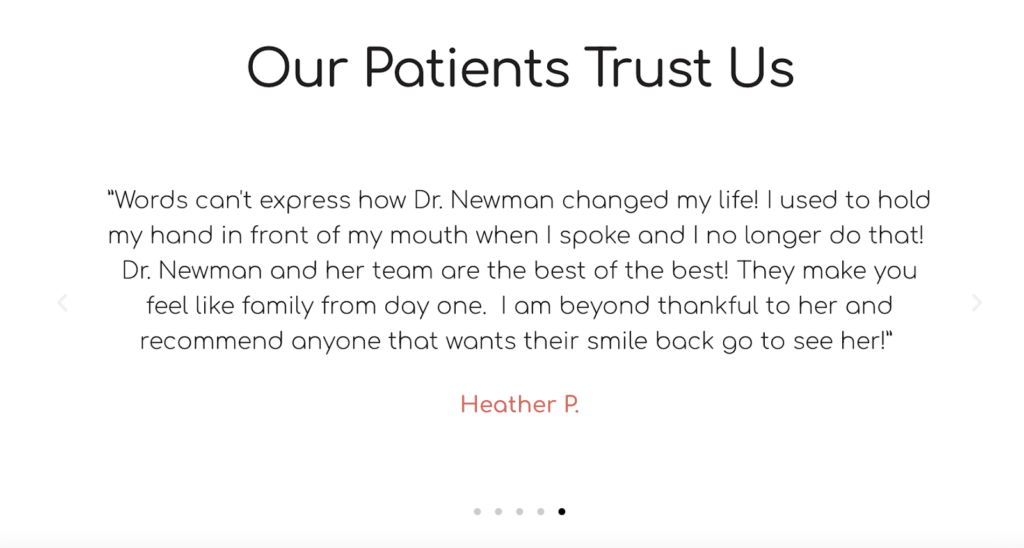 An even more compelling form of patient testimonials are video testimonials. 2 out of 3 people say they'd be more likely to make a purchase after watching a testimonial video showing how a business, product, or service helped someone like them. If you're able to capture footage of a patient sharing their experience at your dental practice, that can be much more powerful than a written quote. 
Accessibility Features
An inclusive website design is not only the right thing to do, but it's also a legal requirement. The Americans with Disabilities Act (ADA) requires websites to be accessible to all users with disabilities. To ensure all potential patients have equal access to your dental practice's information and services, it's crucial to have an ADA compliant website.
This involves the addition of features like descriptive alt text for images and keyboard navigation to provide a seamless experience for users with visual or motor impairments. The Web Content Accessibility Guidelines (WCAG) explain the full list of accessibility features your website should have, and they are widely accepted as the standard for what makes a website accessible or not.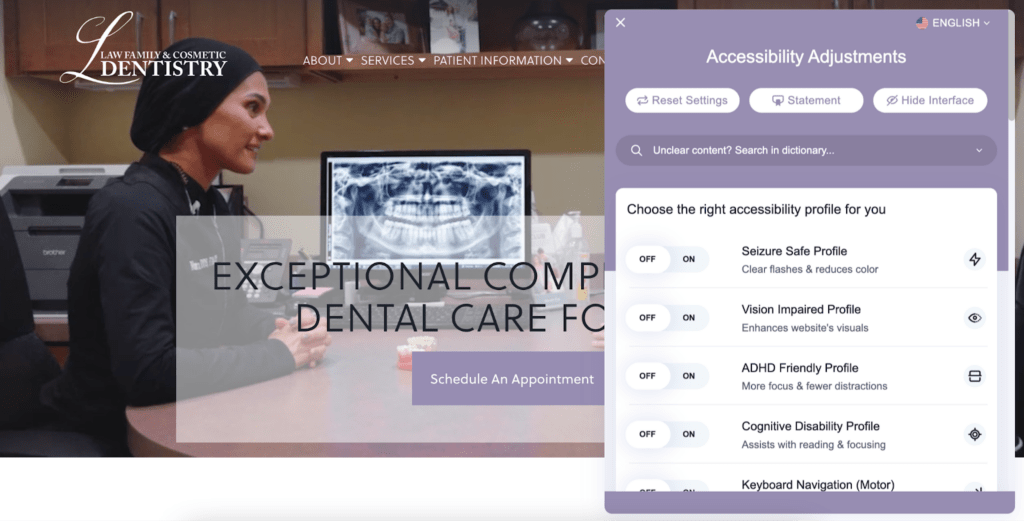 Clear Navigation
A well-structured and user-friendly website navigation system is essential for any healthcare practice looking to attract and retain patients online. This involves organizing your website's menu with distinct categories, such as:
Our Services
Our Team & Doctors
Patient Information
Schedule An Appointment
Contact Us
The easier it is for patients to find what they're looking for, the more likely they are to choose you as their dentist. After all, confusing navigation is the fast lane to high bounce rates, with visitors quickly giving up and seeking dental care elsewhere. Optimizing your dental website's navigation keeps visitors engaged and encourages them to take action.
Easy Appointment Booking
The ease of booking dental appointments online can lead to an increase in new and returning patients. This could be through a contact form, an embedded calendar with real-time availability, or a patient portal. No matter what form of appointment booking you use, making it easily accessible online improves patient satisfaction and enables practice growth.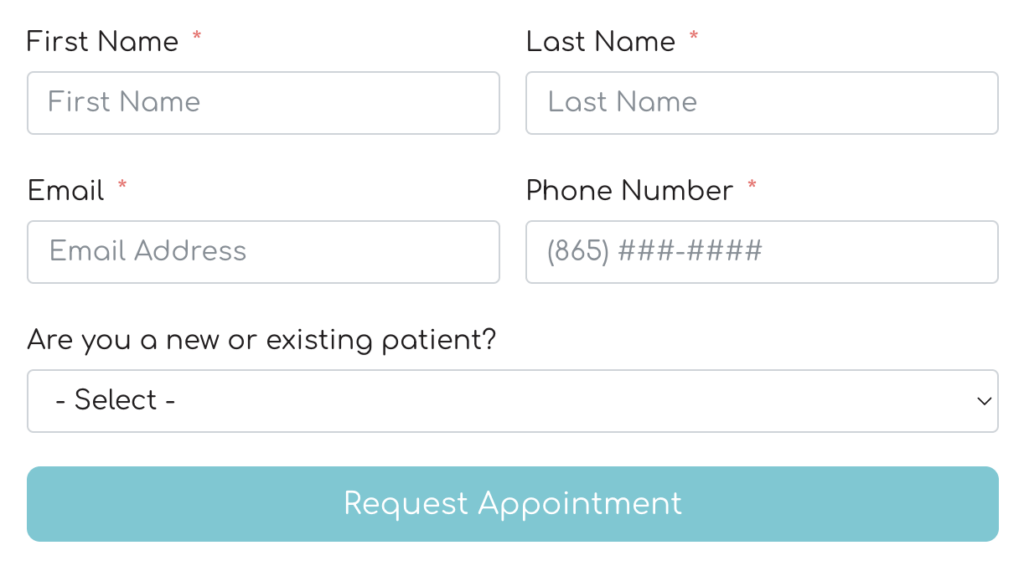 Easy appointment booking also saves time for both patients and staff, and in a world where convenience matters above all, this is crucial. If your practice prefers appointments to be made over the phone, this may be the time to rethink your process.
Younger generations now expect to be able to book appointments online, and 75% of millennials avoid phone calls because they are time consuming. By embracing modern dental website design and offering a streamlined booking process, your practice can thrive in the digital age and build long-lasting relationships with your patients.
Getting Started with Dental Website Design
These five dental website design trends can help your dental practices amplify user experience, ignite patient engagement, and elevate your dentist marketing strategies. A mobile-first approach taps into the growing on-the-go audience, while patient testimonials provide the powerful social proof needed to win over potential patients.
An accessible design fosters inclusivity and reputation, while clear navigation ensures visitors find what they need with ease. Lastly, streamlined appointment booking seals the deal with convenient access to your services. Embrace these trends to build a captivating website that attracts, engages, and converts visitors into loyal patients, fueling your dental practice's growth and success.
Baker Marketing Laboratory has spent years helping healthcare businesses find their footing in the digital world. Through a combination of inbound digital marketing and powerful messaging strategies, we help you craft a marketing campaign that resonates with your ideal customer. Contact us today to schedule a call and learn the difference we can make for your business.