Online reviews have revolutionized the way dental services are perceived and shared. While they offer an invaluable platform for promoting your practice, they also allow patients to express their opinions and frustrations openly. Negative reviews are inevitable, making it crucial to proactively establish an online reputation management strategy for your dental practice.
Online reputation management for dentists involves asking patients to leave a review after their visit, monitoring these reviews, and responding to them. This lets you know what's being said about your practice online, helping you promptly address negative comments and find positive testimonials to leverage for marketing purposes.
Why Online Reviews Should Matter to Dentists
90% of patients use online reviews to evaluate the quality of healthcare professionals. This means that what patients say on Google, Yelp, Healthgrades, etc. has become an essential aspect of managing and maintaining a dentist's reputation. Whether they're positive or negative, reviews carry significant weight for attracting new patients and incentivizing returning ones.
It's helpful to think of reviews as digital tools since they have such a major impact on your reputation and patient growth. Asking for reviews, monitoring them online, responding to them, and turning positive reviews into testimonials are all ways to boost your practice's reputation.
Asking Patients for Reviews
Encouraging patients to leave reviews after their visit is the first step towards building a strong online reputation. Dentists can request feedback through follow-up emails, text messages, website widgets, office signage, or in-person interactions. It's essential to educate patients about the positive impact their reviews have on your practice.
Utilizing online reputation management tools and services can streamline this process, sending automated review requests to patients after their appointment is over. You can even automate follow up emails and text messages if they haven't left a review yet. This helps you save time and effort while consistently gathering valuable feedback from patients.
Monitoring Reviews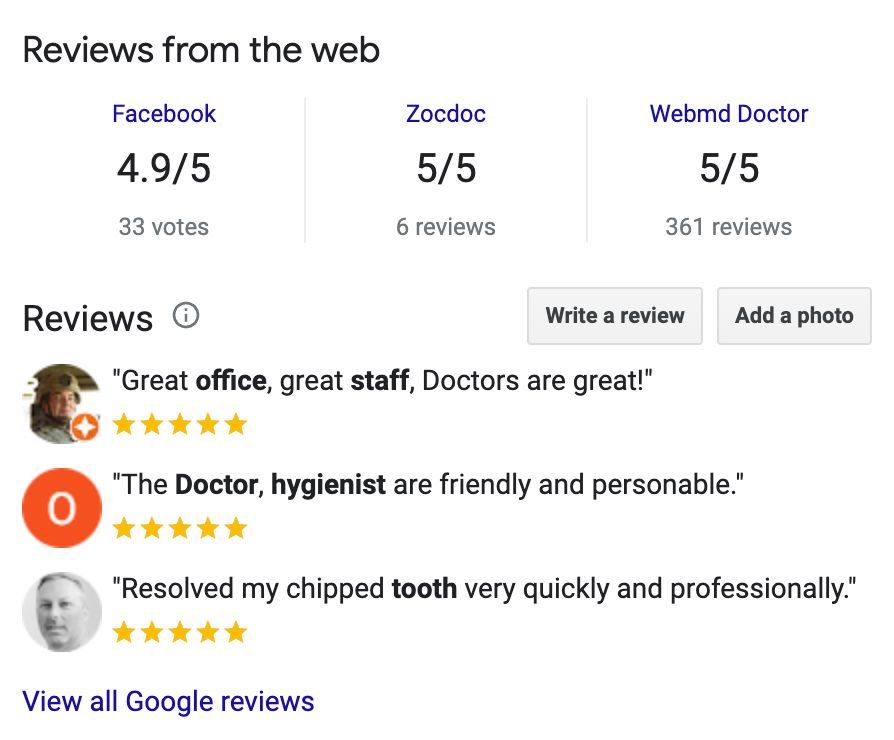 Staying vigilant about monitoring and managing your online reputation is essential for dentists. Regularly checking Google, Yelp, social media channels, and healthcare-specific websites like Healthgrades, ZocDoc, Vitals, and WebMD allows you to stay informed about what patients are saying about you online and address concerns promptly.
Having an active profile on these databases can also help you show up when patients searching for dentists in their area. The quantity, quality, and recency of your reviews signals to Google, Bing, Yahoo, etc. that you are a reputable dentist, which boosts your local search engine optimization (SEO) and can improve your rankings.
Responding to Reviews
Another crucial aspect of reputation management for dentists is actively engaging with online reviews. Responding to both positive and negative reviews demonstrates your kindness, commitment to patient satisfaction, and willingness to address concerns.
Timely and personalized responses show that you value patient feedback and aim to provide the best possible experience. Additionally, responding to negative reviews in a professional and empathetic manner can help mitigate any potential damage to your reputation and foster trust among prospective patients.
Leveraging Positive Reviews as Testimonials
Dentists can leverage positive online reviews by showcasing them as testimonials on your website, social media platforms, email newsletter, advertisements, and more. Quotes from satisfied patients act as powerful endorsements, reinforcing your dental expertise and reliability.
Sharing positive reviews not only enhances your reputation but also encourages existing patients to refer others to your practice, boosting new patient acquisition. Patient testimonials show that you are a trusted, sought-after dental provider in the community, so it would be a missed opportunity not to highlight them in your marketing.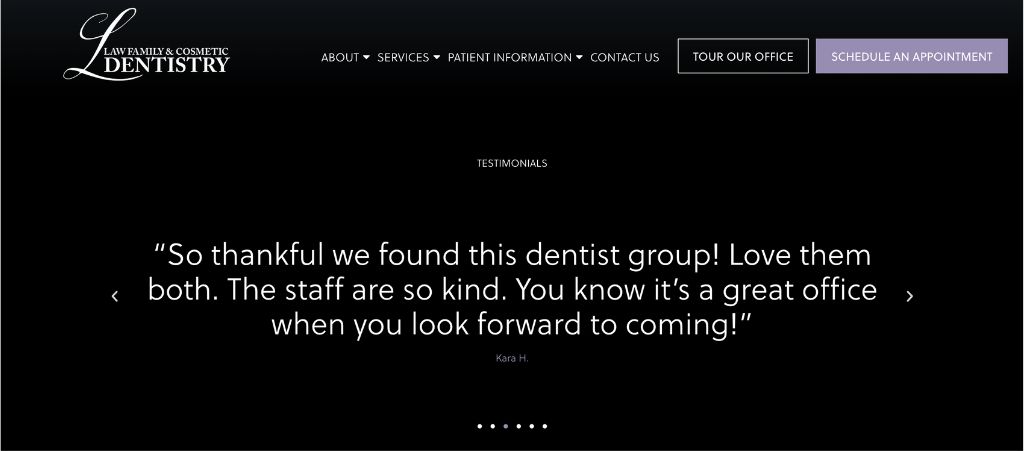 Get Help With Online Reputation Management for Your Dental Practice
Online customer reviews are just one factor you should consider when marketing your dental practice. Both traditional and digital dental marketing strategies can significantly help you raise brand awareness, book new appointments, and increase patient loyalty. What's important to keep in mind is that your competitors in the dental industry are paying attention to reviews and so should you.
That's where Baker Marketing Laboratory comes in. We have over a decade of experience helping dentists develop and implement winning digital marketing strategies. At Baker Marketing, we're more than your typical marketing agency. We're your partner and guide helping you navigate the digital world and reach your goals.
Are you ready to take your dental digital marketing strategy to the next level? Book your free marketing review today!
Baker Marketing Laboratory has spent years helping healthcare businesses find their footing in the digital world. Through a combination of inbound digital marketing and powerful messaging strategies, we help you craft a marketing campaign that resonates with your ideal customer. Contact us today to schedule a call and learn the difference we can make for your business.