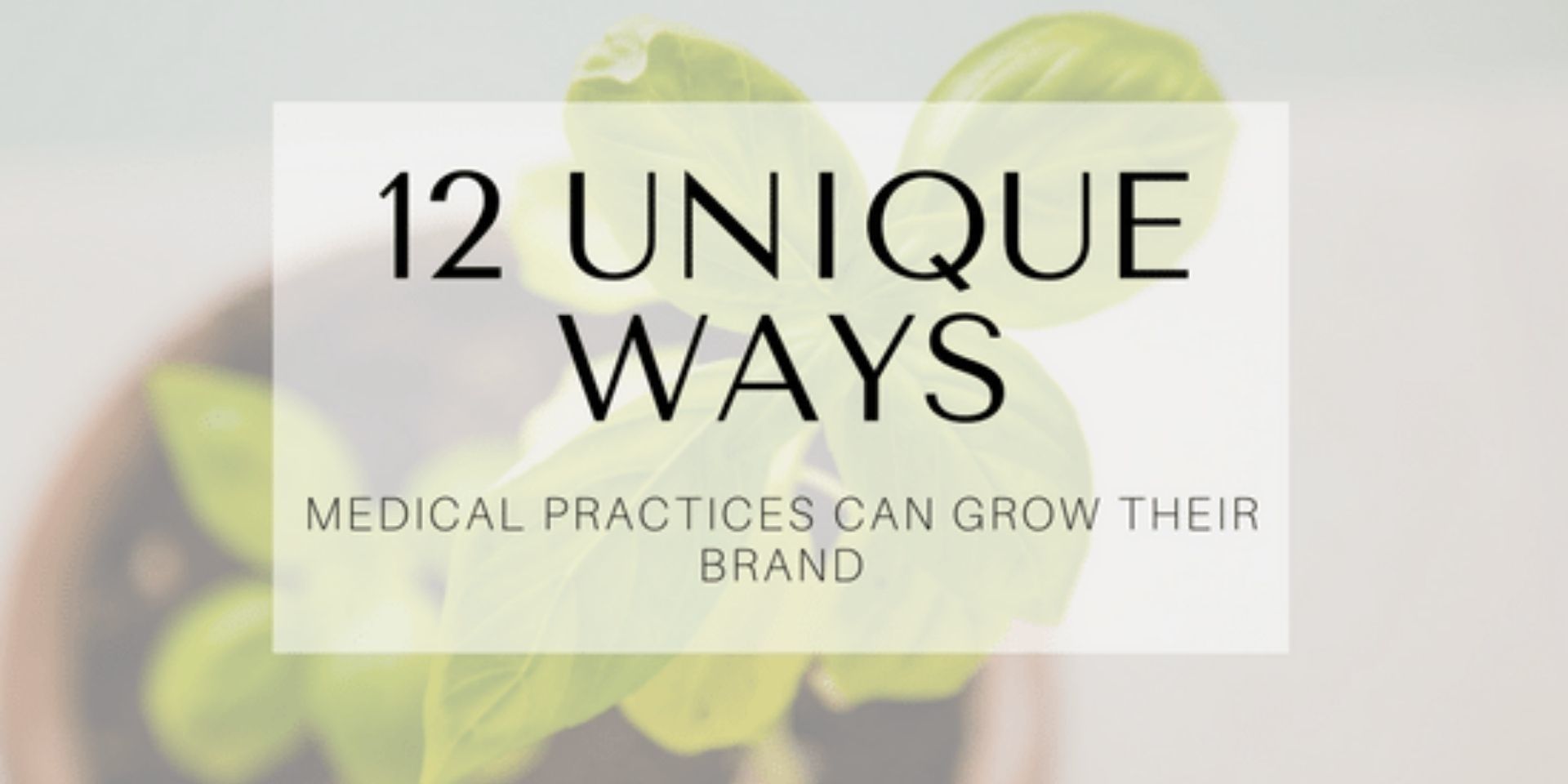 When people hear the word "brand" they often think of companies that sell products.
You have a favorite brand for cereal, you only buy a certain brand for apparel, and you buy the new generation phone every time it comes out because you love that particular phone's brand.
Why? Because there is something about that brand that has captured you. Maybe they've always been reliable, maybe their products last longer, or maybe they've just done a good job of adding value to your life even before you ever bought one of their products.
But…
If you run a medical or healthcare practice, then your services, your doctors, and your procedures are your product. You have to develop a brand just as much as an apparel company or a consumer electronics company does.
A brand is a representation of who you are, what you do, and who you serve.
In a nutshell, your brand is what people think of when they hear your name, and your brand is what is going to be what gets patients in the door or keeps them away.
So, what do people think of when they hear your practice name? Is it positive? Negative? Is there nothing but crickets?
How are you going to stand out in a society where there is so much noise?
Well, I've put together a list of 12 unique marketing ideas that your practice can start doing that is sure to grab people's attention and help your brand cut through the noise.
1. Get involved in Facebook Groups or create your own group.
Facebook groups that are managed well can have a lot of engagement. Look for groups that meet one of these two criteria: they are an active group that is specific to the geographic area that you serve or they are an active group that talks on matters that surround your specialty (i.e. if you are a Bariatrics practice look for groups that talk about weight loss or health and wellness. If you are a vein clinic, look for groups that talk about beauty tips, skin care, or even the topic of varicose veins themselves). If you are feeling up to the challenge, you can also create your own facebook group that you can use as a channel to promote your blog/article content, promote offers, start conversations, answer questions, etc. The potential is endless.
2. Create an engaging email marketing campaign
Email is far from dead. In fact, email can be an incredibly powerful business development tool, even for a medical practice. Because there seems to be so much noise out there today even within the email space people are becoming less generous with who they give their email address to. Look at email as a form of currency. Once you've captured a patient or potential patient's email, offer them an engaging email campaign. For instance, you can use an email campaign to let your list know about upcoming events, share industry news and updates, or update them of new blogs or eBooks that you've published.
3. Engage on Linkedin Groups
This may seem counterintuitive because LinkedIn may not contain your patient demographics, but growing your brand is more than just about being in front of your patients. It is about credibility, too. If your doctors can engage with like-minded folks in a LinkedIn group, get involved with other doctors, and start conversations around medical topics, then you can become a subject matter expert within your particular specialty. When credible people begin listening to your opinion, your brand will grow. Start with some groups like Society of Physician Entrepreneurs or a group that is specific to your specialty.
4. Utilize Facebook Ads
This is personally one of my favorites because Facebook advertising has some of the greatest ROI if you do it correctly. The ROI is strong because the cost per click is fairly reasonable and your ads can be unbelievably targeted to your exact patient demographic. You can literally place a targeted ad right in one of your ideal patient's facebook feed. This doesn't mean this is easy to achieve, but if you teach yourself how to effectively place Facebook ads or you hire an agency like ours to manage that for you, you will likely see an uptick in business.
5. Giveaway drawings in exchange for an email address
Giveaways have been around since the beginning of time, but the follow-up to those giveaways has evolved. An idea would be to do a giveaway on social media for something that your ideal patient would find valuable. Maybe that is a free examination or consultation or maybe it's a six-month supply of some nice product that your practice offers. Make the drawing eligible to those who put their name and email into a form on your website. Boom! Now you've got a list of email addresses that you can follow-up with who have interest in your service or product. Yes, the giveaway may cost you money, but remember to look at receiving someone's personal email as a form of currency.
6. Be active on Instagram with Instagram stories
"Instagram stories" is a move by Instagram to allow users to create more content outside of the regular image or video in a feed. Many people use stories to document their day or to talk on a topic that they care about. Medical practices can really benefit from this because they can talk about procedures, trends, recovery times, etc., that can educate a potential patient. The beautiful thing about Instagram stories is the capability it gives you to have a link within the story that takes someone off of Instagram and onto the website page that you link to. This can be used powerfully. For example, a quick Instagram story that spoke about a new, cost-effective, painless, risk-free approach to eye correction surgery would then have a link that took someone directly to a "free consultation" page on your website.
7. Start a Podcast
Even though video is incredibly popular, a lot of people are sleeping on the importance of voice & audio. Audio is here to stay and it's only going to get more popular. You can get sucked into the "YouTube abyss" for hours if you have the time, but you can't watch YouTube while you drive or while you're filling in spreadsheets for hours. With Audio, more specifically with podcasting, people can engage your content while they go through their entire day. Audio is giving people their time back while video takes time from them. So, create a podcast. What if you were the industry expert in their ears talking about the newest innovations in varicose treatment technology or the newest minimally invasive, outpatient knee replacement surgeries? I know I would trust you over others if I needed a treatment that you provided.
8. Create Snapchat content
Snapchat has similar functions to Instagram stories like having the ability to "swipe-up" for linking to an offsite website page, but it can also be used to interact more personably with your audience. So, not only can you have a story for all of your followers to see but you can also have one-off conversations with people who may want to ask you a personal question. This is how you generate a community of followers that trust you and trust your brand.
9. Do a staff social media takeover day
Let different people within your staff take over your social media for a day. Instead of having one person handle all of your social media, why not let different people take pictures, make posts, or shoot video within your practice? Getting different perspectives of your practice helps you paint a fuller picture. This has two positive impacts. First, this helps create a company culture that is fun. It allows your employees to feel more engaged in the company, gives them more responsibility, and can make them feel like they are contributing in more ways than one. Second, people want to go see practices that they can relate to. Sometimes anything that has to do with medical can be intimidating. Make your potential patients feel like you are normal people too.
10. Give rewards for Google & Facebook reviews
This is fairly self-explanatory. People love free stuff that requires very little effort on their part. Let people know that if they give you a review on Facebook or Google that they will get some Forrest m of reward. Make it enticing. Make it fun.
11. Facebook ChatBot for customer service, FAQ's, and content distribution
Talk about a growing and effective trend! Go where your audience already is—Facebook. But go to them in a way that stands out, can be personal, and can call them to an action step. Bots can be customized to accomplish a number of things. Want to let your Facebook audience know that you just wrote a new blog? Bots do that. Want to be able to automatically give answers to commonly asked questions for treatments, pricing, hours of operation, etc? Bots do that. Want to have an automated campaign just like you would with an email campaign? Yep, you guessed it, bots do that, too.
12. Share 60-second videos on Instagram of your staff and providers
People want to be treated by people that they feel like they know and trust. What better way to show people that you and your practice are made up of everyday people who happen to also be incredibly good at their job? Spend 60 seconds a day interviewing one of your employees via video on Instagram, asking them questions about themselves, and letting them talk about what they love about working at your practice.
____
These are just a handful of ideas to help you stand out amidst the noise. Try some of them, see what works, and make a commitment to grow your brand. Your future patients deserve to know about you, so find ways for them to get to know you.
Does all of this sound great but you don't have the time or know how to do it consistently? Let's talk!