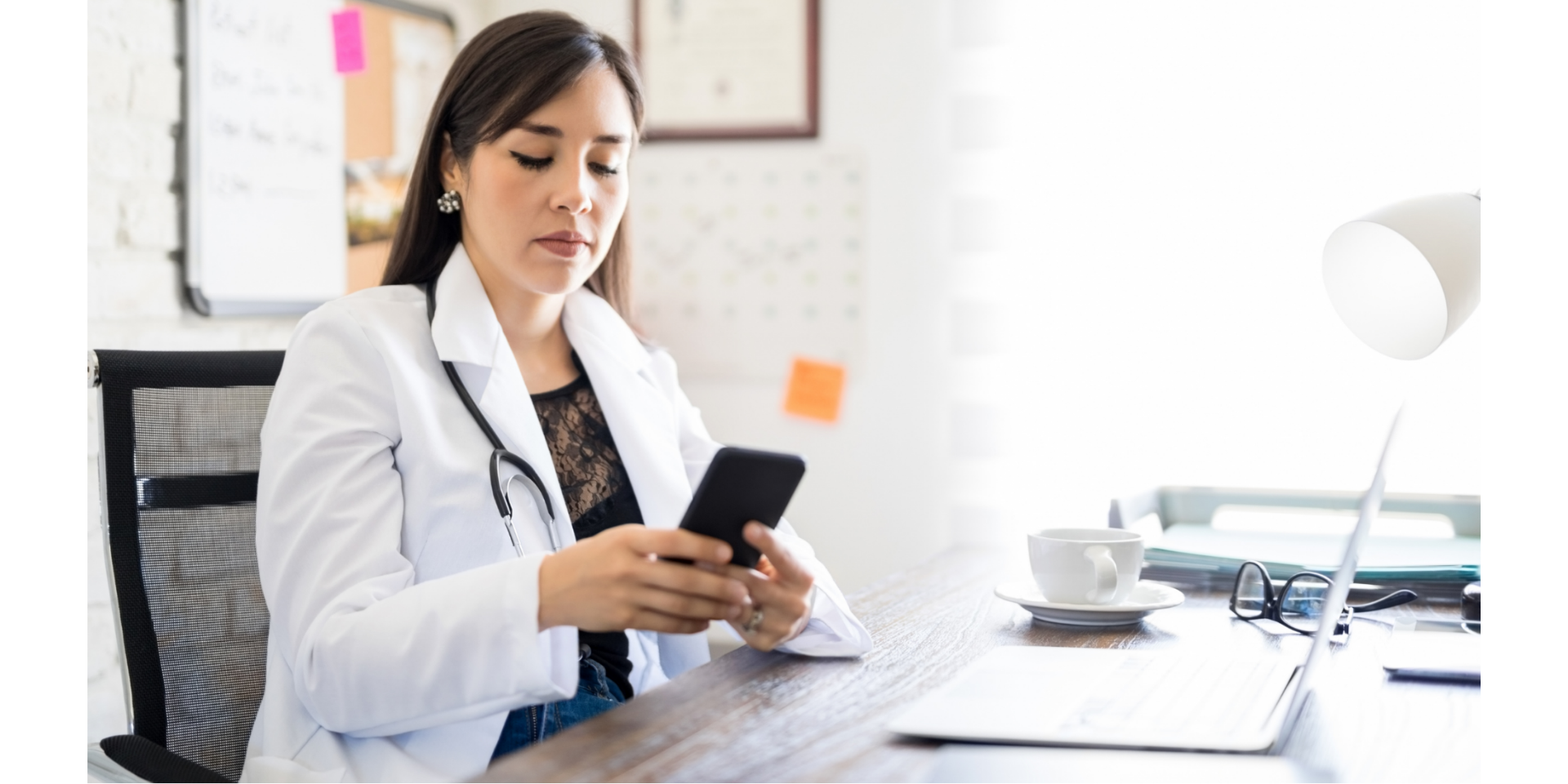 Digital Marketing
The Power of Social Media: Networking With Peer Medical Professionals
The way social media has infiltrated every part of our lives has dictated changes in almost every industry. It's changed how we communicate with our friends and family, but it's also completely changed how we network with our professional peers. This is especially true for medical professionals in the age of COVID-19.
Conferences have gone virtual, and travel has decreased across the world. But medical professionals have found new and innovative ways to stay connected with and encourage peers across the world in their careers.
How can you network with peers via social media? In this blog post we cover several opportunities for you to connect with peers and get involved with furthering your career in the medical field using multiple platforms.
Connecting with Medical Professionals Via LinkedIn
LinkedIn may be one of the more obvious ways to connect with peers around the world. After all, it's a platform built for professionals to network with each other, no matter what industry your career is in.
Follow Top Voices in the Medical Field
One of the best ways to use LinkedIn to network with peers is by following influencers in the medical field. Every year, LinkedIn publishes LinkedIn's Top Voices in various industries, one of which is frontline healthcare. In 2020 they published two of these lists: a special edition in April at the height of the pandemic and all of its unknowns, and another towards the end of the year.
Seeing regular updates from these top voices is an excellent way to stay connected with what's happening in the medical field. It's also good for interacting with other medical professionals and physicians through the comments section on their posts.
Optimize Your Professional LinkedIn Profile
As a medical professional, you'll want to make sure your LinkedIn profile is optimized to connect easily with your peers. Here are some elements your LinkedIn profile should highlight:
Skills and expertise – Represent your specialties and professional role through the skills you list on your profile.
Education, honors, and awards – You've accomplished a lot to be in your position. Reflect it appropriately through showcasing all degrees, special honors, and achievements.
Profile picture – Your profile picture should be a professional portrait or headshot.
Summary – In your summary you should discuss your motivation for becoming a doctor, why you're passionate about your work, and what you wish to accomplish (networking with other medical professionals).
An example of an optimized LinkedIn profile is Dr. Austin Chiang, the Director of the Endoscopic Bariatric Program. Dr. Chiang has used his profile to highlight all of the different professional associations he participates in, the awards he has achieved, the positions he has had in his career, and his motivation to educate patients and other medical professionals through the power of social media. 
Networking with Other Physicians on Instagram
In our recent blog post, "TikTok & Bedside Manner: What's the Connection?", we discussed how physicians can use Instagram to educate and connect with patients. But did you know that it's a rich resource for connecting with peers in the medical field, and especially in your specialization?
Dr. Danielle Jones is a physician we highlighted in our last blog post as an example of an excellent way to reach a new, younger audience of patients. But she's also a perfect example for using the power of social media to connect with peers, despite their specialization or geographic location. Dr. Jones is constantly collaborating with other physicians. Sometimes it's to create content that educates patients, but more and more she's working with other physicians to create content that targets other medical professionals.
One connection Dr. Jones grew through social media was a relationship with Dr. Natalie Crawford, a fertility specialist in Austin, TX. The two physicians connected through social media and that translated into a real-life friendship. In a recent Instagram post, Dr. Crawford shared the story of connecting with Dr. Jones and growing her platform to educate patients and connect with peers through social media. They've continued to collaborate on content, and they even created an online community for other women in the medical profession.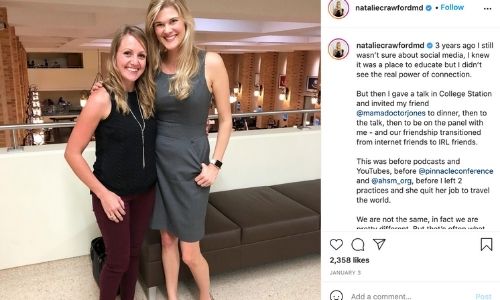 In 2019, Dr. Jones and Dr. Crawford partnered with two other doctors to create Pinnacle, a community and conference built for women in the medical field. Dr. Jones, Dr. Natalie Crawford, Dr. Rupa Wong, and Dr. Pamela Mehta founded the community as a way of establishing a place for women in the medical profession to connect with like-minded individuals who work every day to balance their careers and personal lives.
Start Local & Grow From There
If you're looking to start a professional Instagram to share information with patients, but also to network with other medical professionals, start at the local level. Do a quick search to see any of the professionals you know locally have an Instagram account to follow, and then start to search for previous connections you may have met at conferences or during your education.
The goal for professional networking on Instagram doesn't have to be created so you go viral. You can simply use it as a helpful tool to grow in your career and learn things from other professionals or influencers in the medical field.
How Can Doctors Use YouTube to Connect With Other Medical Professionals?
YouTube is another popular social media platform for medical professionals. Most medical professionals use YouTube to educate patients, but there are quite a few who use the platform to collaborate on content with other medical professionals. The content they're producing may still be targeted towards patients, but the act of collaborating is an important piece of professional networking.
'Dr. Mike' is one of the most popular medical professionals on social media. Dr. Mike Varshavski is a board-certified family medicine doctor in New York City. On Instagram alone he has 4.1 million followers, and on YouTube he has an astounding 6.7 million subscribers. His newfound fame through social media has gotten him on network television shows, interviews with celebrities, and even an interview with Dr. Anthony Fauci about COVID-19 in March 2020. But out of all of the medical professionals who have a large following on YouTube (including Mama Doctor Jones and Dr. Natalie Crawford), Dr. Mike has collaborated with and interviewed other medical professionals a lot.
In one of his recent videos, Dr. Mike interviews Dr. Danielle Jones about the COVID-19 vaccine and its risks to pregnant women. This is a perfect example of how Dr. Mike is using his platform to network with a medical professional outside of his specialty. No doubt his own patients who are pregnant have questions about the COVID-19 vaccine, but getting information straight from an OBGYN goes a long way when he's sharing information with any potential patients.
Starting Your Own Educational YouTube Channel
If collaborating with other medical professionals to create educational content sounds interesting, it doesn't have to be complicated. You don't have to produce your first videos with a lot of equipment and pomp and circumstance. Your content can simply be a personal vlog answering patients' top questions or interviewing local medical professionals about topics relevant to your community.
But if you want to create content that captures an audience, taking the time to think through topics and work with professionals to produce and market high-quality videos can be worth the time and effort. Marketing your content not only reaches your local community and potential patients but can also help you connect with other professionals around the world who are working towards the same goals that you are in your career.
Online Networking in a World With No Conferences
Right now it's more important to connect with other professionals online than ever before. Due to the concerns that COVID-19 brings, large conferences and opportunities to network with professionals in person have been canceled or indefinitely postponed. But with the power of the internet and social media, you can participate in larger virtual conferences or smaller virtual gatherings with a few peers.
Partnering with the right digital marketing firm can go a long way in helping you reach new patients to grow your business and peers to grow your career as a medical professional. If you've hit a wall on how to use social media to grow your business, we can give you some answers and direction. Schedule your free consultation today!
Baker Labs is not your typical marketing agency or corporate consultant. We are an innovative marketing firm that delivers best-in-class results, and we like to have fun in the process. We have nearly a decade of experience marketing to medical practices and partnering with doctors to grow their practices. Visit our website to discover the latest news and updates in digital marketing in the healthcare industry. Whether you're looking to grow your practice or market your service or product to healthcare professionals, we have the answers for you.