On Friday I got the question, "My CEO is concerned about our sales team. How can my sales reps use social media to replace their in-person visits since they are now blocked for the next month or two from on-site visits?"
My answer to him was that it can't.
Social media isn't a replacement for doing in-person sales. Can it help? Yes, but it's not as simple as just flipping a switch. The gap between traditional handshake sales and social media engagement is just too big to fix in a couple of days.
But here is an alternative idea that will work. Your salespeople can host an open hour online video roundtable once or twice a week and invite customers, established industry contacts and prospective leads.
This isn't a webinar — no slides, no agenda. Instead, the point is to provide a space for everyone to talk shop, connect and interact with someone outside of his or her office for a few minutes. The salesperson is the host of the meeting and guides the conversation to keep it on track and valuable to everyone attending. I'd suggest opening with some ground rules on topics and then quickly getting to comments on the first topic.
As you talk remember — everyone is operating in a different world than they are used to — they will all have uncertainly and fears about the future. Use this time to be a resource and ask questions like, "How can I help?" or "Would it help if I…." to help everyone through the next week and month.
At the end of the hour the value provided will be indirect to any deal you've got in process, but you will have sowed benefits that you will see in the future as you build and deepen relationships.
Sample Topics You CoulD Use:
Industry Impact – Concerns / Feedback
How are they handling working from home, equipment or material shortages, etc.
What are they hearing from customers?
What are they considering doing differently in the next 30, 60, 90, 120 days?
How is their local community handling the impact?
Technologies
You can use Zoom, Uberconference, GoToMeeting – any technology that allows everyone to share and talk via video. Why does video matter? 70%+ of our communication is non-verbal. When you can see people you are talking to, you're more engaged and you understand what they are trying to communicate beyond just your words. Your meeting will have more impact for everyone if you do video.
Example – Mark Schaefer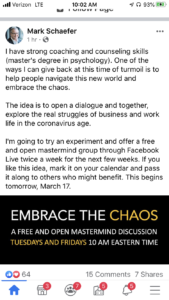 On Monday morning, I saw that my friend Mark Schaefer did just what I am talking about, he hosted an online meeting. I went to his video meeting via Facebook Live and it was awesome. The format is different than what I'm suggesting, but the concept is the same — a space to hear his perspective about what was happening and how he was impacted, but also to be encouraged by some bright examples of the opportunities others have found in these difficult times. Hundreds of people attended his forum, making it a rich experience. I'd recommend you give it a listen and join next time (Tuesday and Friday at 10am EST) as he provides a framework on how to be empathetic with your clients and customers.
Next Steps
After you host your first meeting, email a recap to everyone you invited with a few highlights of the video call and an invitation to the next session. Ask them to invite a few of their contacts to join as well. Rinse and repeat for the next few weeks as everyone adjusts to a new normal. Your sales will be different, and so will you.
If you are in this or a similar scenario at work with your sales or marketing and you want feedback and strategy on what to do next. I'm happy to help you move forward – just email me gavin@bakerlabs.co or book a time.