For most businesses, especially medical practices, local SEO is one of the easiest paths to digest and often offers the best return on the effort invested. The one key piece you require for local SEO is a physical location.
With traditional SEO, your website plays a key role; content and keywords are structured to optimize the way search engines understand the topics you publish content on and how authoritative your site is for those topics. Local SEO, on the other hand, is about optimizing how search engines understand your physical location. Traditional SEO is still important, but local SEO is not as dependent on many of the same factors, instead taking into consideration things like Google reviews or recent photos of your location.
Search engines are an integral part of the modern web. From their relatively simple beginnings, these tools have grown into complex computer systems crawling the web conducting intricate analyses of trillions of pages on the web in a never ending loop. The goal? Providing the best possible result for any given query.
Coping with the increasing complexity of search engines and ever growing competition is why search engine optimization (SEO) is so complicated; there is no single right answer for getting more traffic from search. For every business that sees a huge return from heavily optimizing their content for high-traffic keywords, there's another who focused on building links, still another who focused on low-competition terms, and yet another who saw huge gains from focusing on their location. It can be maddening to try to keep track of it all, on top of the changes that roll out periodically. So, what's the best way forward? Consider these 5 reasons local SEO matters for medical practices.
Local SEO Puts Your Practice on the Map
Second only to phone books, paper maps have seen a steady decline in favor of the always up to date maps published by major search engines. A big part of this is the ease with which users can search for places—not only by address, but by keyword as well. A local SEO campaign will not only make certain your practice is listed, but also help your practice show up more prominently.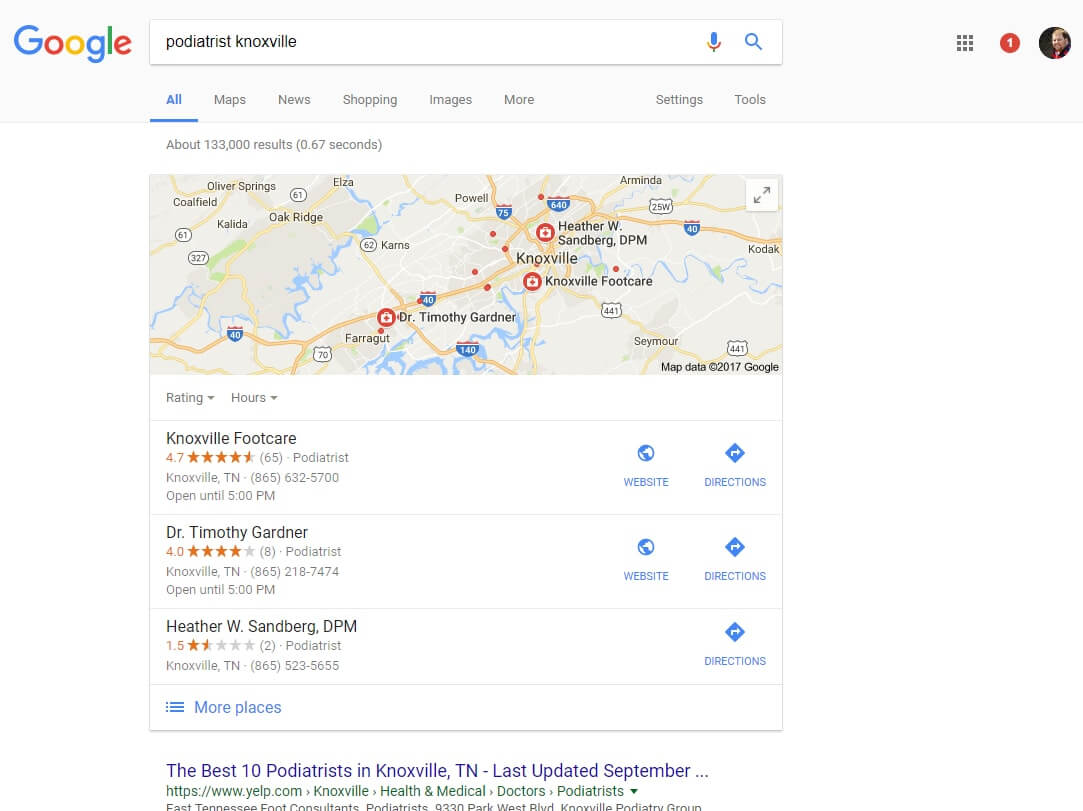 Local SEO Secures Prime Search Real Estate
Showing up in the map results is ideal, as long as your future patients are using the map, but aren't more people going to see regular search results page? They sure are! If you'll notice, some of the prime real estate on results pages is dedicated to maps and a select number of local results (3 on Google). A well orchestrated Local SEO campaign can put you in the top 3 local results and put your practice right at the top of the regular search results page above practices that are killing it with traditional SEO campaigns.
Voice Search – Siri, Alexa and Google Assistant
While some people have been talking to their computers and phones for years, they haven't always been listening. Now, thanks to the advent of digital assistants like Siri, Alexa, and the Google Assistant, an ever increasing number of devices are beginning to listen and talk back. While some of the information is scripted, how exactly does Siri know where the nearest dentist is? Local search results! How can you be the dentist Siri recommends? Being the closest dentist to the person asking helps, but strong local SEO helps you stand out above the other dentists in the area when Siri is trying to find the best option. You want to show up when someone says to Siri on their iPhone "Where is the closest eye doctor?"
Location Can be a Significant Differentiator
In some businesses, their location isn't all that important—sometimes people will drive past 5 competing businesses to get to the one with the lowest prices. In others, being the local option can be a huge benefit. This is often the case in medical practices, particularly in the broader fields with more practices competing for patients in their immediate area. Most people want a dentist, eye doctor, or primary care physician that is conveniently located. Local SEO is how you make sure they know exactly where your practice is.
Local SEO Attracts More Patients
The most attractive reason local SEO matters is quite simply its ability to attract more patients. All the elements of a good local SEO campaign come together to attract more patients. Every day people search for a doctor, dentist, ophthalmologist or other medical professional. When your practice shows up at the top of the search results page with consistent, correct, and comprehensive details, that makes an impression and attracts patients that might otherwise be going to the office down the street.
The good news is kicking off a local SEO campaign doesn't have to be a huge undertaking; some of the key elements don't require extensive technical knowledge or tons of time. Get started today by making sure your practice name, address and phone number are correct and consistent across all your social media profiles and your website. This only takes a few minutes and you might be surprised how many listings of your practice contain out of date phone numbers or addresses resulting in missed calls and patients showing up at the wrong place.
[hs_action id="1291, 930, 823, 795″]