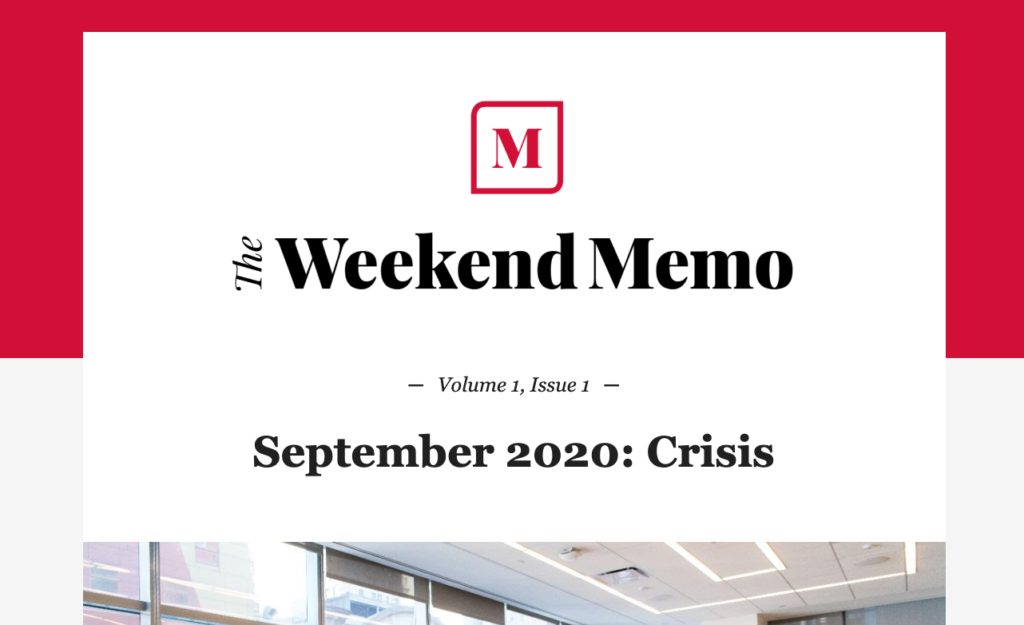 Last month we partnered with Ryan Mefford to launch The Weekend Memo, an email and blog where business voices can be heard. Ryan describes it best below:
The ultimate purpose for this site and blog is two-fold. The primary purpose is giving a voice to important people in business that I feel should be heard. Although we do not lack voices in today's world, there is a lack of curating the right voices on relevant business and worldview topics. The gap I am trying to fill is business related content in focus but I hope for it to also, periodically, transcend business into life & leadership. Leadership is a really loaded term in today's society, but it's also an asset that is hard to come by. What we need is the right kind of leadership that isn't self-focused and "platform building" in motive. The voices I hope to bring to The Weekend Memo fit that criteria. This isn't a space to pitch but to inform and maybe inspire if we are good at it.
The Volume 1: Issue 1 for September was on Crisis. I contributed the following below on the topic of marketing and competitive advantage.
What is your competitive advantage?
When we think of competitive advantage, what often comes to mind is a unique must-have product or service that others cannot emulate that allows a company to ride that wave to repeated success. Think iPhone, Tesla, or Ritz-Carlton.
Unfortunately, from March to May of this year, many businesses have struggled. Even now many continue to struggle as they grapple with the new realities of our COVID-19 impacted world. Industries like music, hospitality, and education are being reshaped, leading to major shifts in revenue, workforce, and technology advancement. Even if your industry isn't being reshaped, it's certainly been impacted.
However, despite the reshaping and struggle many industries are facing, there is a surprising thread that we have seen within our network of clients and friends during this pandemic. There are companies that are thriving despite the crushing effects of the pandemic on the world around them.
What's the thread?
It's simply this: there are companies who have treated their marketing as a key piece of their strategy. This is a clear competitive advantage. Companies who have spent the last few years intentionally and consistently creating informational and educational content like videos, blog posts, and webinars have been able to use them as resources while their competitors are left scrambling and can only send an outdated PDF of a brochure to a prospective customer. These companies have email contact databases full of people used to hearing from them on relevant industry topics. Through this they've built trust, and their competitors are left empty handed.
You are probably thinking, "Why is this a competitive advantage?" As the saying goes, Rome wasn't built in a day, and neither is a brand. Apple has been at it for almost 40 years, Coke for over a century. A robust content library, or a database of relevant contacts who want to hear from you, takes time, effort, and investment to grow and build. Many companies' entire revenue and sales efforts were centered around face-to-face in-person meetings, and those meetings haven't happened in months, which has left them trying to figure out strategies that work.
One of the differences between insight driven content and blah-boring content is the time it takes to craft and create. The difference between must-read emails and SPAM is tied to the relevance of the content and awareness of the company. These are digital examples, but it goes beyond that. Ultimately, it's about your relevance to your market when they need you most.
Highlighting an example, many companies rapidly shifted to webinars or digital methods to continue to maintain relationships with customers in the Spring. But if your inbox is full of invitations to webinars, how do you choose which ones to attend? The same way you pick anything — you pick the familiar, the safe, and the easy. Which is the company you've bought from in the past and the one you've heard from consistently that you like, know, and trust?
Companies who treated marketing as a key piece to their business strategy were prepared in ways that other companies weren't. This has allowed them to thrive when their less-prepared competitors are just hoping to hold on and survive. As they say, the best time to plant a tree was 50 years ago… Or today.
What competitive advantages will you plant today?