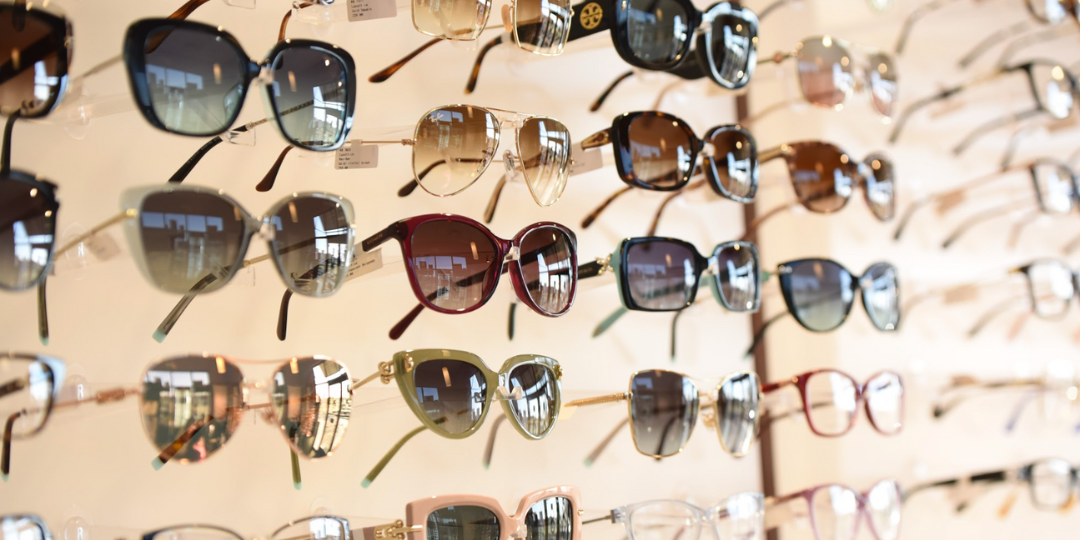 Growth tends to be the primary goal for any optometry practice, especially when first starting out. You want to attract new patients, fill up appointment slots, and turn your practice into a successful business.
To unlock the growth that you and your optometry practice deserve, it's important to get one thing right: marketing. Marketing efforts like search engine optimization (SEO), website design, email campaigns, etc., can significantly help you increase appointment bookings and become your area's go-to optometrist.
And…we've got proof that it works. Through consistent digital marketing efforts, Hardin Valley Eyecare & Optical continues to surpass its growth goals.
The Hardin Valley Eyecare & Optical Story
Hardin Valley Eyecare & Optical provides optometric services and quality vision care products to patients in Knoxville, TN, and the surrounding areas. Baker Marketing has worked with the practice since 2017 to elevate all aspects of their digital marketing, including: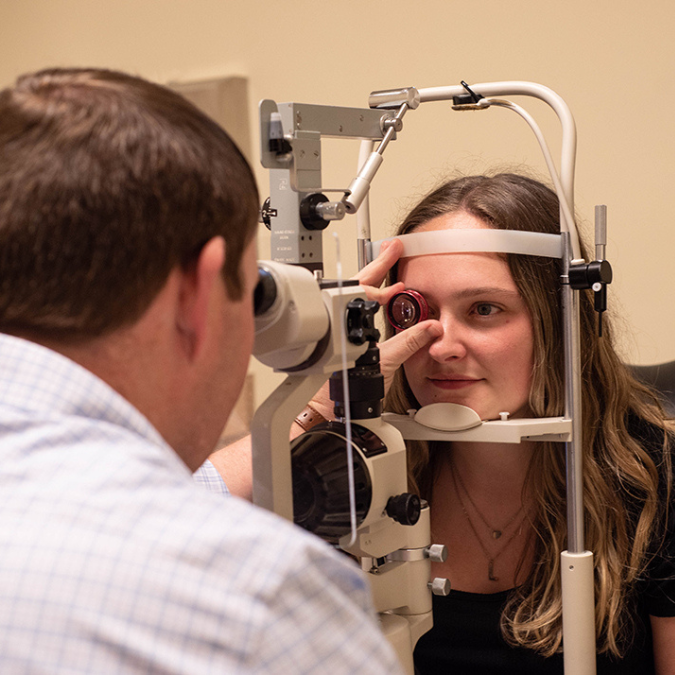 Website design and development
Social media
Digital advertising
Search engine optimization (SEO)
Online review campaigns
Photography
Videography
And more!
When we first started working with Hardin Valley Eyecare & Optical, Dr. Travis Thompson, O.D. was the only optometrist at the practice. Because of the growth they achieved within just a couple of years, they were able to expand and add another doctor to their practice, Dr. Catherine Abbott, O.D.
"Our practice has experienced immense growth over the past few years, and a major part of that is thanks to Baker Marketing," said Dr. Thompson. "We also continue to surpass our appointment goals month over month, which is really the biggest metric of success for an optometry practice. Baker Marketing has truly exceeded our expectations."
Three of the marketing strategies that have led to some of the most success for their practice include search engine optimization (SEO), a website refresh, and online review campaigns.
Search Engine Optimization (SEO)
SEO is a marketing strategy that helps businesses rank high on search engine results pages (SERPs) for keywords and phrases they care about. For example, optometrists want to make sure they're ranking high for phrases like "eye doctor near me," "best optometrist in my area," "contact lens exam near me," etc. That way, potential new patients are able to easily find your website and book an appointment.
When deciding what your ranking result should be for certain search queries, Google takes a variety of factors into consideration. One of those factors is the content on your website, such as blog posts. The more written content you have on your website that is search engine optimized, the more likely you are to pop up when people are searching for terms related to your business.
SEO blogging has tremendously helped with Hardin Valley Eyecare & Optical's growth, and they're now ranking highly on Google for thousands of popular search terms related to optometry. For example, one of their blog posts now ranks first nationally for the keyphrase "​​what is commonly misdiagnosed as pink eye," which is searched an average of 18,100 times per month.
Website Design and Development
Whenever someone is looking for a new eye doctor, it's more than likely that they'll start with a Google search. So, not only do optometrists want to use SEO best practices to pop up when that happens, but you also want to have a well-designed website to make a good first impression. It's really important that your website is both visually appealing and functional for your current and potential patients.
In 2021, we had the privilege of creating a new website for Hardin Valley Eyecare & Optical. We understood the importance of enhancing their online presence, as their previous website had been built from a stock template and did not fully align with their marketing goals.
Our main focuses on the website project were to improve user experience, optimize the content for search engines, and elevate the design to be unique to the practice's brand. We made sure everything was easy to find and clearly directed visitors to request an appointment or get the information they needed. The end result was a website that not only met the client's expectations, but also enhanced their brand image and provided a better online experience for their patients.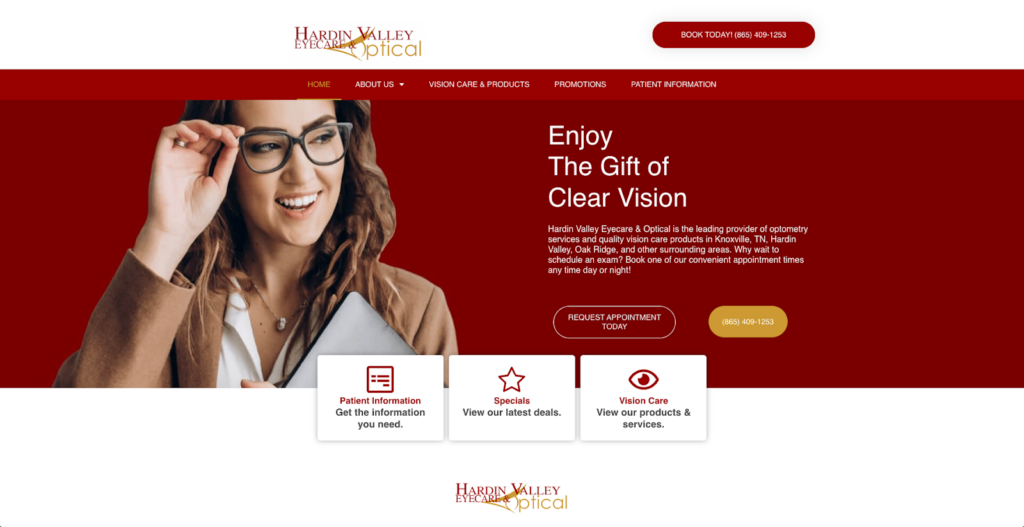 Online Review Campaigns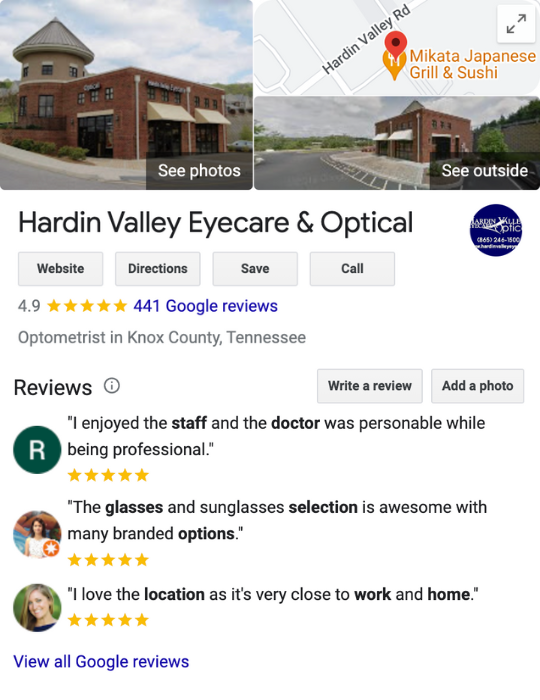 Reviews are another key factor that patients use when determining which optometrist to go to for treatment in their area. Like any product or service, the winner will always be the one with the best reviews. To help boost your local reputation, there are many marketing strategies and tactics optometry practices can use to generate reviews, manage reviews, and turn reviews into testimonials.
Leveraging multi-touch review campaigns, we have been able to harness well-deserved feedback from Hardin Valley Eyecare & Optical patients. The optometry practice now has over 440 reviews on Google with a 4.9 star rating, which is exactly what you want potential patients to see when they search for your services.
"Before working with the team at Baker, we weren't ranking on Google, we barely had any reviews, limited engagement on social media, and our website was a stock template that didn't truly reflect our approach to eye care for our patients," said Dr. Thompson. "Fast forward to now, we dominate Google rankings for many common optometry questions, we have 440+ patient reviews, 600+ social media followers, and our website is fully optimized to support our marketing goals."
We are so lucky to have been a part of this growth journey with Hardin Valley Eyecare & Optical!
Baker Marketing Laboratory has been helping optometry practices for years to expand their digital presence and generate the growth they deserve. We are not your typical marketing agency or corporate consultants. We are an innovative marketing firm that delivers best-in-class results for healthcare practices across the U.S. and internationally, and we like to have fun in the process.
If you feel stuck and want to partner with an award-winning digital marketing agency to help you achieve your optometry practice goals, schedule a free consultation today!