With everything that has happened this year due to an international pandemic, more and more people are focused on how they can stay healthy. Procedures that have been put off are being booked, routine exams are taken more seriously, and overall, your patients are paying attention to the services that you can offer them as a healthcare provider.
The revolution that digital marketing has brought to the healthcare industry over the last decade has created a lot of competition for your practice's offers to be seen and heard. It's more important than ever to ensure that your website and digital content are optimized to capture new patients and keep current ones. Has your website been updated within the past year or two to keep up with digital marketing trends? Have you reassessed your digital marketing strategy to ensure it's optimized for current trends and what your patients want from you?
In a world where anyone can create a digital ad campaign or build a website, it's important to make sure your healthcare practice's website stands out among the rest. We've taken the time to compile a list of three things every healthcare practice should have on their website, as well as some ideas for digital content that drives traffic to your website.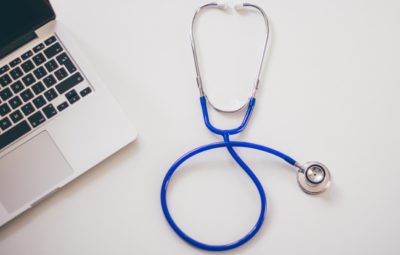 1. Online Appointment Scheduling
It's no surprise that we live in a fast-paced world. COVID-19 forced many to slow down for a time, but life has quickly returned to a fast pace. As healthcare providers have reopened their schedules, the books have quickly filled due to a backlog of canceled and delayed appointments during mandatory shutdowns. This can create scarcity in appointments for those who are trying to book a new appointment now. While there's nothing that can be done on the practice-level to help with this, short of hiring new associates or providers, there are ways you can mitigate the frustrations your patients may feel when they find it hard to get an appointment.
Your website should feature an online appointment scheduling tool. In today's digital age, the options are vast and varied. There are scheduling tools specifically designed for specialties within the healthcare field, as well as broad options that could work for a number of different uses. The ability for your patients to see what is and isn't available can help them understand that it isn't because you don't want to see them that they can't book an appointment. Medical and healthcare practices are simply experiencing a backlog in appointments thanks to mandatory shutdowns earlier in the year.
Online appointment scheduling tools have a few different advantages beyond appeasing your patients' frustrations and concerns:
Online appointment booking is 24/7, making it easy and convenient for your patients to book an appointment outside of office hours
A tool like this can free your office staff to focus on other administrative tasks outside of booking appointments
You can focus digital ad campaigns on conversions for online appointment booking and track the results
It can help free your staff up to focus on the patient experience
It can result in faster payments after your patient's appointment
If online appointment scheduling isn't something featured on your website, you can find lists of top-performing platforms as well as reviews from real healthcare providers and professionals. If your practice uses an electronic health record system, sometimes they also offer online scheduling as an additional tool in their software.
2. Online Bill Pay
No one wants to call within office hours to pay their bill or make a payment via snail mail anymore. While some patients choose to pay at the time of their appointment, many will find the convenience of paying their bills online a deal breaker while choosing a healthcare provider. In a recent study from athenahealth, there's been a large increase in the use of and demand for digital payment options among patients. If your website doesn't have an online bill pay option, that should be an addition to your website you prioritize in 2020.
Paying for medical bills can be a complicated process with insurance, compliance, and security requirements. When choosing a software to implement in your medical practice, you should look for one that's going to work for your complex needs as a healthcare provider. Look for the following features:
Flexible payment options
HIPAA compliance
An online patient portal that allows patients to access invoice history
Implementing an online bill pay option to your website can result in freeing up more time in your office staff's busy day due to less follow up with patients, increased patient satisfaction, receiving payments faster, and digital payment records for each patient. There are several paths you can take when choosing the right software option for your healthcare practice. Do your research and make sure any option you find fits your practice's needs.
3. SEO-Optimized Blog Posts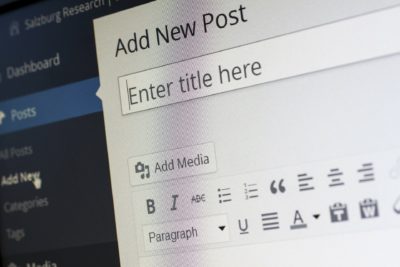 If your healthcare practice has a website, your goal should always be to drive intentional traffic to it. One of the best-proven ways to drive traffic to your practice's website is through SEO optimized content regularly posted on a blog. When many hear 'blog' they think every post needs to be interesting content that someone will read, but the reality is that you should be covering the topics that people are searching for related to your services. You don't have to be the wittiest writer or choose the most engaging topics. Your blog content simply needs to be strategic.
You can still use blog posts to promote services you need to market, but with every blog post you write, make sure that your titles are optimized for SEO, and that you format your blog in a way that can make it more popular with search engines. Do your research to find keywords that are trending for your featured topic, and post on your blog regularly and strategically. Make sure your content is matching up with your overall marketing strategy.
If you don't have a blog yet, it should be easy to set up on your website. To help you get started with a content calendar, we have two months of free customizable SEO-optimized medical blog post titles for you to utilize for your practice.
Drive Traffic to Your Website With Digital Marketing for Your Healthcare Practice
Your healthcare practice's website should answer your patients' questions and make life easier for them. Having the right features on your website like the ones mentioned above are important for the patient experience, but you also want to make sure you're using your website as an important tool to capture new leads. In order to do that, you want to drive as much traffic from your target audience to your healthcare practice's website.
Implementing the right digital marketing strategy can increase traffic to your website, and ultimately help your healthcare practice grow in both patient base and revenue. Consider the following avenues to help increase traffic to your website:
Digital ad campaigns
Regular social media updates
Email campaigns
Placing the right content in the right places to point current and potential patients to your website can do so much for the success of your healthcare practice.
Your Practice Needs Healthcare Marketing
Even though healthcare is a service most would see as a necessity, that doesn't mean you can expect your practice to be successful and gain new patients without any marketing efforts or an optimized website. Taking the right initiatives to improve and update your practice's website can result in tangible results for your practice. Time spent in driving the right kind of traffic to your website, with clear call-to-actions such as booking appointments and consultations, and paying bills, will result in an increase in revenue and more patients.
Baker Labs proudly serves medical-focused businesses around the globe through a hybrid, inbound marketing approach towards growing practices, clinics, and healthcare businesses. If you're interested in increasing web traffic, growing conversion rates, and ultimately increasing revenues through growing your patient or customer base, you can claim a free marketing assessment today!