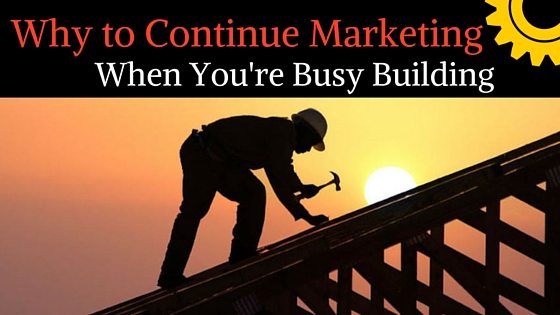 29 Jan

Why to Continue Marketing When You're Busy Building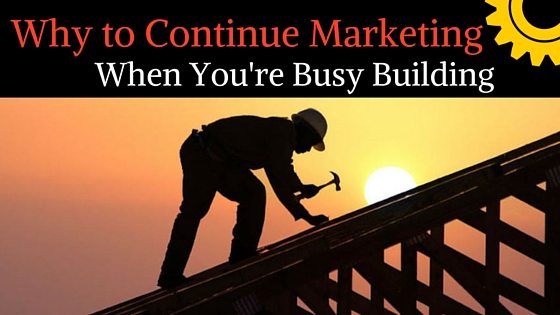 Business is booming. You've built more custom houses and completed more renovations over this past year than the three previous years combined. You're netting a few million more in revenue and you feel pretty good. As you sit at your well-oiled mahogany desk, you notice a white envelope peaking out from under the newest issue of Professional Remodeler. You pull it out and open it to find a letter from your outsourced marketing team requesting a meeting to review and renew your contract. As you take a sip of your coffee, the wheels in your head begin turning. Business is great, your men are busy, money keeps rolling in, and your clients are happy. Why should you continue marketing? You're exactly where you want to be.
Great question. Whether to continue marketing during a building company's growth is a dilemma many successful home builders and remodelers face. The truth is, this dilemma arises from a misunderstanding of the purpose of marketing. What many companies don't realize about marketing is that like food, it's not optional. Stopping or drastically cutting your marketing efforts at the pinnacle of your success will not only stunt your growth, it will deplete your business. Marketing is often misinterpreted as a magic pill. Low on customers? Here, try Vitamin M for a boost. In reality, it doesn't work that way. Let's take a look at the world's largest corporation who was ranked as America's #1 Fortune 500 company for 2015: Walmart.
Also ranked #1 in the Global 500, Walmart has a network of nearly 4,000 stores in the U.S. and makes over $485 billion in revenue. Although their brand easily recognized all over the world, Walmart still spends close to $2 billion on marketing. Why?
Continuing to follow the marketing plan that made you successful (in addition to a few tweaks here and there for strategic purposes) will benefit your builder-remodeler business in these four ways:
1. Ongoing marketing will prevent your customers from forgetting about you.
You might be surprised to know that not every homeowner who does business with you will remember you, even if you were hired for a big build. The next time they need a major renovation, you want to be sure you're the crew on speed dial. Ongoing marketing will help continue your relationships with former clients as well as help you make new ones. Learn more about social media's role in the marketing process in this blog post.
2. Ongoing marketing will help you target the right audience when goals change.
As your company continues to grow, it is very possible that your business goals will change. You might stop taking on less profitable work (like small bathroom remodels) or you might find a niche you want to explore. In order to do this though, you'll need to be able to target the right audience for your agenda. Ongoing marketing will allow you to change your focus much more easily vs. having to start over with a brand new customer base.
3. Ongoing marketing will provide your company more options.
When it comes to business, "enough" really isn't enough. The more business you attract, the more fun you'll have doing what you love and discovering different subsets of your industry. The busier you are, the pickier you can be with the jobs you accept. What would life be like if you only worked on your favorite projects? Having "too much" business can also act as a safety net. If things ever slowed down, you'll have a waiting list to fall back on.
4. Ongoing marketing will secure future success.
Savvy home builders and renovators don't leave their futures to chance. Business is booming now, but can you guarantee you'll be doing just as well in six months? A year? Three years? Ongoing marketing will keep your customers engaged and leave opportunities open.
If you're busy building and remodeling homes, chances are you're probably too busy to facilitate your own marketing strategy even if you were able to before. That's what we're here for!
Read: A Guide to Choosing an Inbound Agency for Home Builders
At Baker Labs, we specialize in creating custom inbound marketing plans for home builders and renovators to carry out your company goals. For more information on how we do this, check out this blog post or contact us.