14 Jan

The Dos & Don'ts of Choosing a Good Domain Name
As part of a comprehensive inbound marketing strategy, we build and update websites for many of our clients. During our kickoff website design meeting, "How do I choose a good domain name?" is undoubtedly one of the top questions asked by our clients. Because of this, I decided to write a blog post that lists a few quick and dirty dos and don'ts of how to go about choosing a good domain name.
DO Brainstorm Relevant Keywords
Begin choosing a good domain name by brainstorming 5-10 relevant keywords associated with your business. For example, if you're Mountain Eye Surgical Center  (a fictional LASIK and laser eye surgical practice located in Greensboro, NC) your list might look something like this:
mountain, eye, laser, lasik, surgery, greensboro, nc
DON'T Be Trendy
While you want your domain name to be unique, you'll want to avoid the trap of being too trendy. Many web 2.0 style sites use odd spellings to stand out. Something like mountainlazercenter would fall into this category. In the early 2000's, domain names used multiple hyphens to ensure SEO optimization. However, a domain name like mountain-eye-surgical-center, is difficult to give verbally and is tricky to type into a browser, particularly on mobile.
DO Make It Memorable
A domain name that is memorable will generate more website traffic and more word-of-mouth referrals. You want your domain name to be one your audience can remember after hearing it on the radio and tell their friends about. Keep your domain name short and sweet (and easy to spell!) and your audience will have no problems finding you.
DON'T Infringe Copyrights
While this tip might be obvious, it is still a good reminder when you're in the middle of a creative whirlwind. Visit Copyright.gov to make sure your site's name isn't violating anyone's copyright.
DO Stay On Brand
Keeping your domain name on brand will bring additional value to your website. When a stranger hears your domain name, they should be able to accurately guess what kind of company you are and the products and services you have to offer. An on brand domain name will also boost your ranking on search engine results pages. By including words specific to your company in your domain name, Google will pull up your website after an industry-related search.
Once you've settled upon a few domain name options, check to see if they're available through a domain selection tool like Domainr.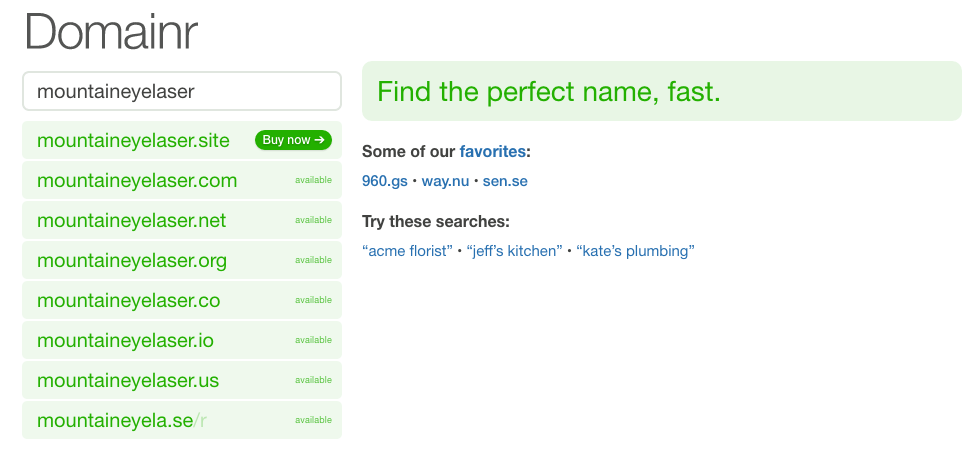 As you can see, there are a few options for mountaineyelaser. Because most people assume your domain name will end in a .com, it is always best to choose .com if given the option.
In this age of ever-evolving technology, a good website is essential to good business. However, a website might not be enough to keep you successful. Inbound marketing is a marketing strategy for businesses who want to maximize their digital impact. To learn more about what "inbound marketing" is and how it can help you take advantage of more online growth opportunities, please contact us.